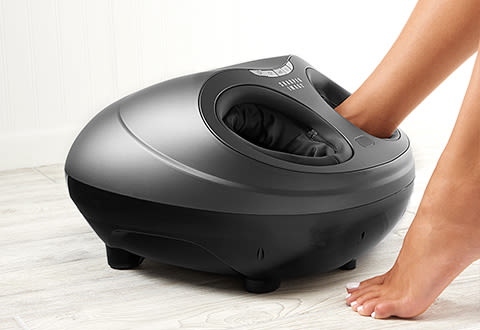 The benefits of using a foot massager
A foot massager can provide a host of benefits for both your mind and body. For one, it can help to relieve stress and tension. The act of massage therapy has been shown to promote relaxation by releasing endorphins, which are the body's natural feel-good chemicals. In addition, a foot massage can help to improve circulation throughout the body and reduce inflammation. This is especially beneficial for those who suffer from conditions like diabetes or arthritis, as poor circulation and inflammation can lead to further complications. Finally, regular foot massages can also help to improve your overall sense of well-being and make you feel more refreshed and alert. Whether you use a hand-held device or visit a professional massage therapist, incorporating foot massages into your routine is a great way to boost your health and well-being.
How to use a foot massager for the best results
A foot massager can provide a great way to relax and reduce stress. There are a few things to keep in mind when using a foot massager, however, in order to ensure the best results. First, it is important to find a comfortable position. This may mean sitting in a chair or reclining on a bed. Next, it is important to remove any shoes or socks so that the massager can have direct contact with the feet. Finally, it is important to start with a light pressure and gradually increase the intensity as desired. By following these simple tips, anyone can enjoy a relaxing and rejuvenating foot massage.
The different types of foot massagers available on the market
When it comes to foot massagers, there is a wide range of options available on the market. From simple manual devices to high-tech robotic massage chairs, there is something to suit every budget and need. For those on a budget, a simple footroller or manual massager can be a great way to ease tension and pains. These devices are often small and portable, making them easy to use at home or on the go. For those who are looking for a more luxurious experience, there are a number of high-end robotic massage chairs on the market. These chairs often come with a variety of features and settings, allowing users to customize their massage experience. Some even come with built-in heaters and music players, providing an all-inclusive relaxation experience. No matter what your needs, there is sure to be a foot massager on the market that is perfect for you.
How often you should use a foot massager for optimal health
Foot massagers are a great way to reduce stress, promote circulation, and relieve pain. But how often should you use a foot massager for optimal health? The answer may surprise you. While it's tempting to think that more is better, using a foot massager too often can actually lead to problems. For example, overuse can cause the muscles and tendons in your feet to become fatigued, leading to pain and stiffness. In addition, using a foot massager excessively can damage the skin on your feet, causing dryness, calluses, or even open wounds. So what's the best way to enjoy all the benefits of a foot massager without overdoing it? Experts recommend using a foot massager for 15-20 minutes per day, 3-4 times per week. This will give your feet time to recover between sessions while still reaping the benefits of regular massage. So go ahead and enjoy your foot massager – just be sure not to overdo it!
Who can benefit from using a foot massager
Many people find that their feet are one of the first places to feel tired or sore at the end of a long day. This is not surprising, given that we put a lot of stress on our feet every day. Walking, standing, and even sitting can put strain on our feet, and this can lead to fatigue, cramping, and soreness. A foot massager can provide relief for these symptoms. By using gentle pressure and massage movements, a foot massager can help to loosen muscles, increase circulation, and reduce pain. As a result, foot massagers can be beneficial for everyone from athletes to office workers. If you are looking for a way to relieve tired or sore feet, a foot massager may be just what you need.
Additional tips for getting the most out of your foot massager
In addition to using your foot massager regularly, there are a few other things you can do to maximize its benefits. First, make sure to keep your feet clean and free of any dirt or debris that could potentially damage the massager. Second, be sure to apply lotion or oil to your feet before using the massager, as this will help to hydrate the skin and improve circulation. Finally, don't forget to give yourself a break every now and then! Even the best foot massagers can't work miracles, so take a break every 20 minutes or so to give your feet a rest. With these tips in mind, you're sure to get the most out of your foot massager.
So, if you're looking for an easy and affordable way to improve your health, a foot massager is a great option. Just be sure to follow the tips we shared on how to use it for the best results. And remember, everyone can benefit from using a foot massager, so don't hesitate to give it a try!